The New Era of Real Estate Development
Devolve Developer is the first blockchain-based global real estate platform that will disrupt the real estate industry.
The new global standard
in real estate
PHASE 1 - 2019+
Access Global Development Projects
Gain higher returns through cross border access to international real estate development opportunities with our continuously increasing development project portfolio
Participate in Our Affiliate Services
Enjoy the benefit of shopping for home related merchandise and other products and services among our community of merchants and service providers
PHASE 2 - 2020+
Property Title Registration
Creating efficiencies and adverting fraud by simplifying land registration and title management processes through distributed ledger technology
Real Estate Index
Countries can adopt a comprehensive databank of real time real estate transactions for predictive modelling, price trends and assess impacts to property value
PHASE 3 - 2021+
Proof of Estate Protocol (PoE)
Applying Smart Contracts technology, this protocol records every fact and major event in a property's history to produce a background profile
Real Estate Transactions
Utilize our transaction management system to transfer ownership by administering deposits, legal agreements and other real estate related essentials
Devolve's Global Partners and Supporters
Devolve has many international developers on board to help build this global blockchain.
Devolve Developer Distributed Real Estate Revolution
Distributive technology improves capital mobility with borderless investing in the $217 trillion real estate industry by disintegrating the barriers of conventional real estate investing and realizing extraordinary returns.
Devolve Developer will reshape the real estate industry with the emergence of a new business model leveraging a decentralized technology that creates access, increases efficiencies and reduces costs. Empowering individuals around the world with a trusted and transparent technology, Devolve Developer will discard many of the conventional hindrances and create a fully interconnected global economy that is completely peer-to-peer contributing to improved worldwide capital flow.
Creating a WIN for Real Estate Participants
Creating access to global real estate inventory and unlocking international private funds in pursuit of higher returns through blockchain technology will shift focus towards private capital for investments. With an increase in investors searching for global diversification, demand for the investable real estate environment will expand substantially creating greater opportunities. Devolve Developer's innovative real estate platform fulfills the needs of the investment community for shorter maturities and greater liquidity with new types of risk-hedged opportunities
Real Estate Investment Strategies
The common real estate investment methods of renting and flipping properties generate modest returns. Devolve Developer capitalizes on the underutilized high return investment strategies in the primary real estate industry – Real Estate Development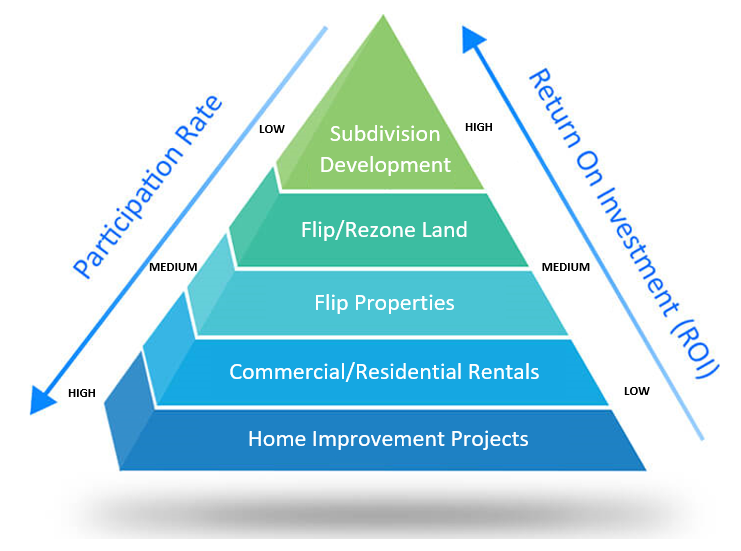 Real estate investors enter the market as a speculator, end user or long term investor who use the most common investment strategies of buy & hold, renting/leasing and flipping property. These strategies are highly saturated due to their ease of entry and respectable profitability margins.
Home purchases are long term investments where future appreciation is exposed to market fluctuations and economic factors.
Renting property produces remedial returns and includes the burden of property management.
Flipping property generates modest returns, but lack of time, money and knowledge adversely impact profit margins.
Property development offers all the common benefits of investing in real estate such as stability, leverage, inflation resistant and increased equity, with the addition of producing high yields at an exponential rate.
Real Estate Development Strategy
Unparalleled to conventional investment strategies, real estate development is the superior underemployed investment approach. Predominantly abandon by individual investors for the high barriers of entry, this wholesale strategy produces unprecedented returns in greater than traditional investment strategies. Devolve Developer leverages blockchain technology to remove the conventional barriers associated with development strategies, increasing utilization of this investment vehicle and producing exponential income for participants.
Real Estate Development
Blockchain technology creates the opportunity to participate in the impenetrable primary real estate market to access global opportunities and earn exponential returns.
In the multi-trillion dollar real estate industry, substantial profits are generated with the operation of property development strategies. From land rezoning to building subdivisions, these strategies produce superior investment performance in contrast to renting and flipping property. As an ignored opportunity by most individual investors, profits are secured for institutional investment firms and accredited investors who can wield the challenges of large capital requirements and elevated inherent risks.
Devolve Developer will alleviate the risks and barriers of real estate development and open the gateway to these high yielding opportunities. With the use of blockchain technology, the market will experience increased participation from individuals that will multiply global capital flow and fundamentally expand cross border income. Now individuals from all over the world can access the high returns of this investment environment.
Portfolio Modelling
Devolve Platform Ecosystem
A digital platform backed by tangible assets with the propensity for high profit margins and the independence to manage risk makes it attractive to all investors.
The Devolve Platform is the first high quality platform backed by hard assets engaging in large real estate development projects suitable for both institutional and individual investors. With the use of smart contracts, Devolve Platform will automate real estate development projects by connecting participants with projects on a distributed platform that would otherwise not be accessible.
The Devolve Platform assesses viable development project opportunities and grants access to everyday investors to participate. Acquired development projects undergo a rigorous evaluation process to determine the eligibility for the program. Participants can search and compare approved projects and allocate tokens to their selected projects to automatically earn rewards.
Development Project Rewards Program
1
PROJECT
New or partnered real estate development project opportunities are realized and registered with their relevant information through the API
2
VERIFICATION
An extensive due diligence is conducted where information is verified and the opportunity is assessed to determine suitability for the program
3
PROFITABILITY
The project's up and down side potential is measured against our risk management profile to ascertain level of uncertainty and potential value
4
TOKENIZATION
Project profile factors are recorded and a weighted average valuation model determines token value, contribution rate and rewards distribution
5
LISTING
Smart contracts append approved projects to the Devolve Platform and token holders can assess the new project's suitability for their portfolio
6
ALLOCATION
Token holders can leverage our tools and resources to determine their token allocation to their selected projects and immediately generate rewards
Smart contracts will determine and manage the distribution of rewards based on the performance of development projects and the allocation the DVX token to participating token holders.
DVX tokens rewarded from development projects can be:
re-allocated in the same project or distributed to other projects, given availability
traded on external exchanges
held in token holders' wallet for future project allocations and future platform offerings
used to shop with our affiliated merchants
Correcting Real Estate Investment Problems
Blockchain technology and smart contracts create a new paradigm for real estate development by removing conventional barriers and establishing a more effective ecosystem.
High yielding projects
with no inherent risk
How Devolve Real Estate Platform works
Revolutionary Token Value
Devolve token is a real estate asset backed token that is highly profitable, stores tangible value and ensures liquidity. Usable. Tradeable. Contribute.
Devolve token (DVX) is the native token on the Devolve Platform and will be used for participating in development project opportunities and future platform programs. The blockchain and smart contract technologies will increase the utility of the Devolve token to include additional services and functionalities such as shopping among our merchant providers, property registration, property valuation and real estate transaction management.
Generate exponential rewards
with real asset backed tokens
Grows in Value

Driven by  the profitability of development projects, growth of the platform and utility of the token

Backed by Real Estate

Secured against the value of  global real estate assets with claims on receivables
Accessibility

Global access to development projects and a community of token holders and merchants

Usable, Tradable, Contribute

Participate in global real estate market, trade tokens on exchanges and purchase items from affiliated merchants
Participate, Hedge & Grow
Build your portfolio with an exceptional rewards model and hedge against the highly volatile cryptocurrency market. Grow your portfolio exponentially creating a maximum token value.
Access multi-million dollar
development projects
Devolve Token Sale
Devolve Developer is conducting a token sale for potential contributors to gain access to the high yielding real estate development marketplace. Devolve Developer secured the necessary partnerships from industry players with a current development project portfolio spanning across 3 continents and continuously growing.
Development projects directly financed with token sale capital. Participate now to earn rewards
DVX is an ERC-20 token
PRIVATE SALE PERIOD
Open Now
PRE-SALE PERIOD
Coming Soon
PUBLIC SALE PERIOD
Coming Soon
TOKEN PRICE
$0.09 to $0.10 USD per DVX
Token Sale
Celebrities Involved with Devolve
Ambassador for Devolve Developer
Avitesh Shrivastava, son of late singer-composer Aadesh Shrivastava and famous actress Vijayta Pandit, is the newest rising star on the Bollywood scene inheriting both of his parents' talents. With a distinguished musical background, Avitesh spent many years composing music with his late father, working with acclaimed composers in Bollywood films such as Baabul and Baghban, and composing the title track of Amitabh Bachchan's talk show Aaj Ki Raat Hai Zindagi.
Launching his singing career in an international music video with two-time Grammy Award winner, Giorgio Tuinfort, Avitesh possesses a music portfolio consisting of popular songs such as, One for the World with his father and Akon, Angel of Peace and Aao Hum Tum Milkar. More recently, Avitesh is making his Bollywood acting debut by working on the latest film by renowned director Remo D'Souza.
Main Hua Tera releasing November 19th, 2018. Learn More
Take a look at why so many different celebrities from around the world choose to be a part of Devolve.